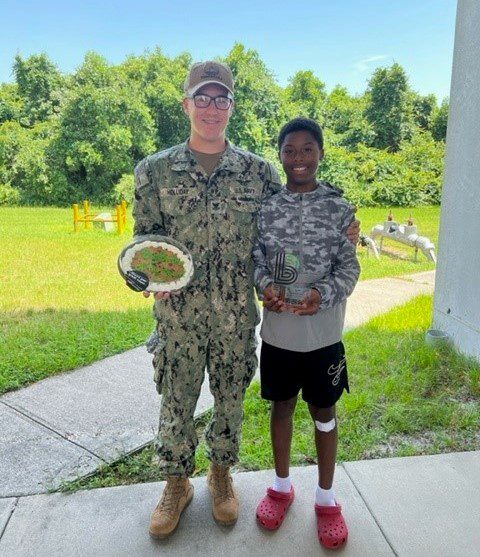 Pensacola, Fla — Big Brothers Big Sisters of Northwest Florida announces Austin Holliday has been named as the Ron Mobayed Military Big of the Year for 2022. Austin was selected to receive this honor because of his commitment to helping his Little Brother DaShawn learn, grow and reach his full potential.
Austin is currently an Air Traffic Controller in the U.S. Navy and has been stationed at Naval Air Station Pensacola since 2018. Soon after his relocation to Pensacola, Austin began volunteering with Big Brothers Big Sisters of Northwest Florida, as well as mentoring through coaching jobs with the YMCA and Perdido Bay Youth Sports.
Austin was matched with DaShawn in April of 2019. Over the past three years, Austin has been a positive influence in DaShawn's life, by helping him overcome various challenges. Austin calls him weekly to make sure he stays on track with his schoolwork and has coached him in basketball and football. The two have also enjoyed many adventures together including video games and visits to Skyzone, the MESS Hall, Fast Eddie's, Sam's Fun City, and the movie theater. DaShawn's mother recently described Austin as a kind and patient person and said the two of them share an unbreakable bond.
On June 14, 2022, Big Brothers Big Sisters of Northwest Florida worked with Austin's superiors and colleagues to surprise him with the Ron Mobayed Military Big of the Year award, while he was working at N.A.S. Pensacola. This award was established to honor the life of Lt. Ronald Joseph Mobayed, who was an outstanding Big Brother while he was stationed in Pensacola for flight training in the early 1990's. On October 3, 1995, Ron and his crew were tragically killed in the line of duty while responding to a distress signal. This award pays tribute to our military volunteers and is awarded to a Big who exemplifies the spirit of Lt. Mobayed through their commitment to their Little, to Big Brothers Big Sisters, and to the children of our community.
We want to thank Austin for not only serving our country, but for all he has done for his Little Brother. Austin has truly shown how just a small commitment for a few hours a month can make a Big impact on a child's life.
###
Big Brothers Big Sisters of Northwest Florida has been the area's leader in one-to-one youth service for 32 years by providing caring, adult mentors to children ages 5 through 18 and beyond. Our mission is to help children reach their potential through professionally supported, positive relationships that ignite the power and promise of youth. Last year, Big Brothers Big Sisters of Northwest Florida served 511 children in Northwest Florida.