Changing lives—one story at a time
The impact a Big Brothers Big Sisters relationship can have is real. We hope these Little stories inspire you to start something by becoming a donor, volunteer or enrolling a child.
Lori and Trinity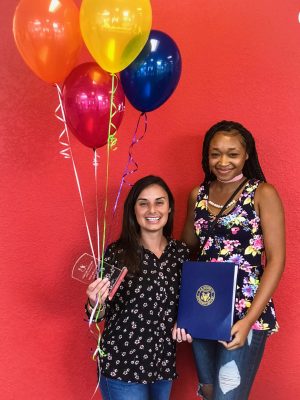 Lori and Trinity have been matched since October of 2012 when Trinity was 12 years old. The two have become inseparable, seeing each other once a week to spend time together and do homework. "I just moved back to Pensacola when I decided to be a Big," Lori shares. "Becoming a Big Sister helped me through a rough patch in my life and had a huge impact on my well-being."
"She and I are both and will always be there for each other," Trinity says. "I'm happy to say that this isn't just a program for kids, it's a family being created." Match Specialist Michelle Byrd also sees this bond between Lori and Trinity. "Trinity has truly become a part of Lori's family," Michelle says. "She was one of Lori's bridesmaids in her wedding, and Lori's husband even calls Lori, Trinity, and his newborn daughter 'his girls'. It's very sweet."
Lori has consistently helped Trinity meet her goals throughout their match. "Trinity is in a veterinary program at a local school and does lots of extracurricular activities, like color guard," Lori says. "She had equipment expenses, so we raised the money for it by doing a garage sale."
"Lori is truly a special person that was sent to Trinity's life on purpose," says Trinity's mother, Heather. "God has a plan for everyone and because of Big Brothers Big Sisters so many kids get to experience something that they have never experienced before."
Ryan and Sean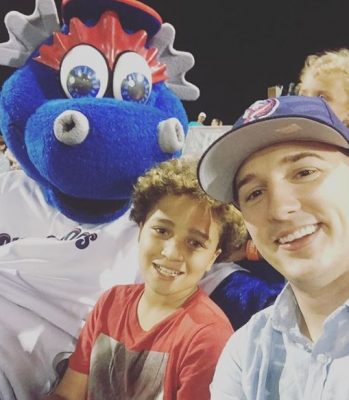 Big Brother Ryan has been in the Navy for 10 years and is currently a Petty Officer First Class working with the Blue Angels as a Logistics Specialist. He is currently stationed at NAS Pensacola. He was matched with Little Brother Sean in June of 2015.
"When I initially signed up for the program, I thought it would be a great way for me to give back to the community, and be able to make a difference in someone's life," said Ryan. "I was very fortunate to have been matched up with Sean because we hit it off from day one."
Ryan and Sean have had many adventures over the last three years. The two have visited water parks, played countless hours of basketball, and enjoyed numerous other activities. "I never knew it was possible for one kid to love Skyzone or Fast Eddie's so much!" Ryan shares.
Even when Ryan is traveling for work, he maintains his communication with Sean. "No matter where Ryan is, he makes time for Sean," says Match Specialist Angie Brewer. Sean understands Ryan's commitment to work "My Big Brother is busy doing his job for our country," Sean says.
Noelle and Kennidi
Big Sister Noelle and Little Sister Kennidi have been matched since March of 2014. Since being matched, Noelle and Kennidi have seen each other nearly every week. Their Match Specialist Michelle Byrd is proud to give Noelle this honor. "As soon as I met Kennidi and her family, they had my heart," said Byrd. "I love this match. Noelle is an excellent example of how a consistent presence in a child's life can make a difference."
Each week they go to a local coffee shop to talk and work on schoolwork. "Kennidi is a bookworm," Noelle says, "A lot of children don't like to read and I admire that she does, because I think reading is extremely important. It helps expand your vocabulary, and I have seen her interests grow too because of it."
"School feels great. It's less stressful than it used to be," Kennidi says. "Since we have been matched the way I act in public is so different too. I was so shy but Noelle has helped me feel more comfortable talking to people."
Michael and Javon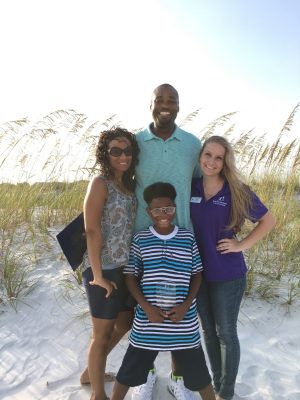 When Big Brother Michael's friend, also Little Brother Javon's previous Big Brother, had to move unexpectedly, Michael decided to step up and become Javon's mentor. "What's important is the impact that we make on others' lives – spending time with people and giving to people, especially people in need," Michael says.
These adventure-seekers love to enjoy outdoor activities together including biking, fishing, and skateboarding. Michael has taught Javon many new skills, and has even helped him catch his first fish.
"Michael is so supportive of Javon," says Match Specialist Yoselin Morris-Calderon. "This year he spent a lot of time attending Javon's football games and cheering him on for his very first season. He always treats Javon like family."
"Michael has come to speak at several events to show people the impact that these programs have on these kids," says Big Brothers Big Sisters President and CEO Paula Shell. "They are always smiling or laughing about something! They are a lot of fun to be around."
"Michael has been a great role model for Javon and we appreciate all of his support," says Javon's Mother, April.
Crystal and Torrina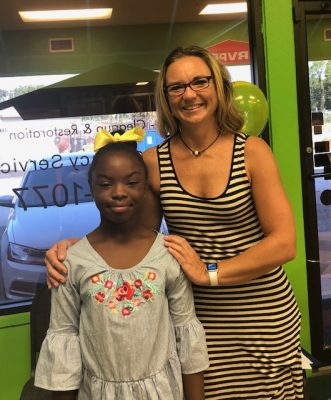 Since getting matched in December of 2015, Big Sister Crystal and Little Sister Torrina have enjoyed swimming, cooking, and reading together. Crystal and Torrina love to go to the library together. Torrina will pick out books and the two will spend hours reading together. "Crystal taught me to always be kind and help others if I can," Torrina says. "Crystal is like my sister!"
Torrina's mother, Brittany, says that she could not do it without Crystal. "The countless hours that they have spent together at the library have really improved Torrina's grades," Brittany says. Match Specialist Leanne Gaudet agrees, sharing "Crystal is consistent, caring, and has changed Torrina's world. Their match really embraces the simplicity of caring and believing in a child."
"It's amazing to see the academic improvements made in this match," says Big Brothers Big Sisters President and CEO Paula Shell. "Crystal has been so dedicated and it's amazing to see the changes in Torrina as well."