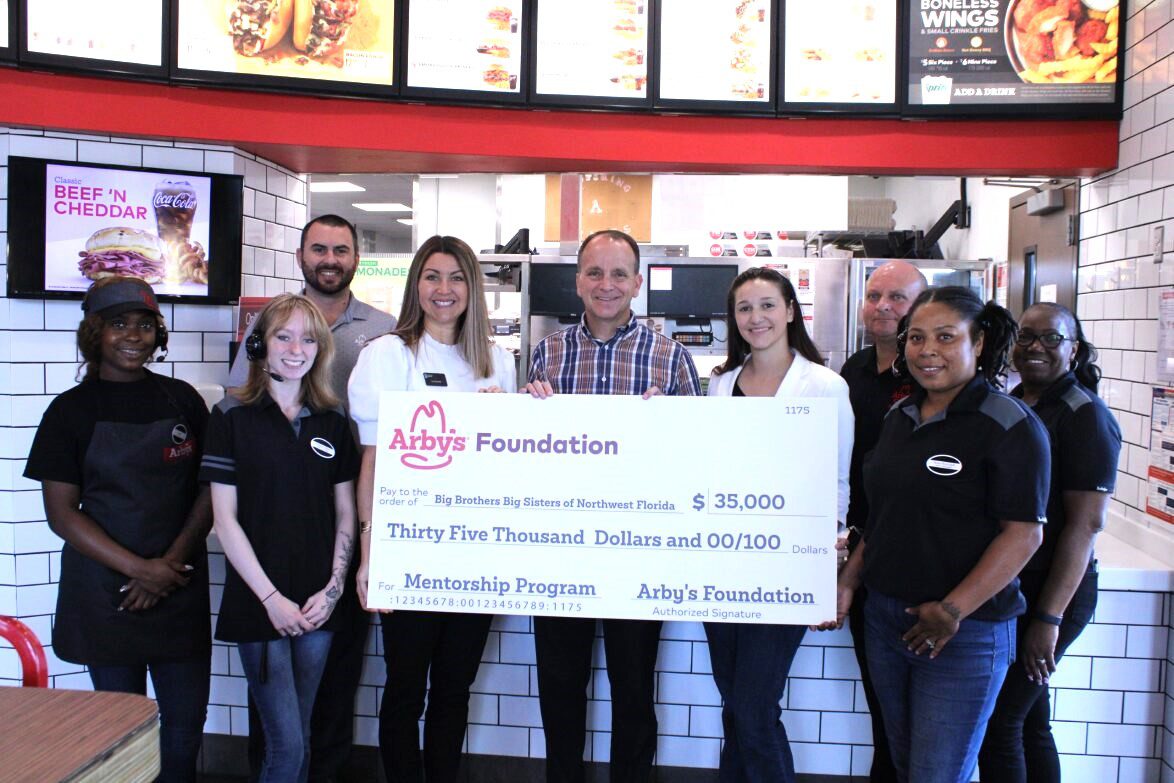 Northwest Fla. – Big Brothers Big Sisters of Northwest Florida is celebrating 34 years of empowering youth and strengthening communities with a special celebration. In a powerful collaboration, the Arby's Foundation has pledged to match all donations dollar for dollar, up to an incredible $30,000 throughout the month of November. This generous gesture amplifies the impact of every contribution, making it a pivotal moment for supporters to get involved.
"Turning 34 is a significant milestone for us," remarked Paula Shell, CEO of Big Brothers Big Sisters of Northwest Florida. "This month we are not only celebrating our history of mentorship, but also our commitment to the future of the youth we serve. We are immensely grateful to the Arby's Foundation for their generosity, which will make a tremendous difference in our ability to support and uplift our community."
Since its inception in 1989, Big Brothers Big Sisters of Northwest Florida has been at the forefront of mentorship, providing guidance and support to countless young individuals in the region. Our founders' vision was to bring caring role models into the lives of children, which set the tone, attracting outstanding board members and making possible the unparalleled success of our organization. Our staff works tirelessly to create and support one-to-one mentoring relationships in Escambia, Santa Rosa, Okaloosa, Walton, and Bay Counties. We are so thankful for all of our partners, volunteers, donors and advocates who have helped us fulfill our mission for more than three decades.
This November, as part of our Birthday celebration, we are calling for the community to come together and ensure the continuation of this vital work. We are inviting everyone to support our mission by making a gift of: $19.89, $198.90, $1,989.00, or any amount you feel led to make. Visit our website, by clicking the link below. Thank you for your support.
###
About Arby's Foundation
The Arby's Foundation, the independent charitable arm of Arby's, helps America's kids dream big and pursue their dreams with confidence. Building on a philanthropic heritage that has contributed nearly $90 million to youth-related causes since its inception in 1986, the Arby's Foundation is committed to helping kids fuel, expand and pursue their dreams by focusing on childhood hunger, youth leadership and career readiness initiatives.
About Big Brothers Big Sisters of Northwest Florida
Big Brothers Big Sisters of Northwest Florida has been the area's leader in one-to-one youth service for 34 years by providing caring, adult mentors to children ages 5-18 and beyond. Our mission is to help children reach their potential through professionally supported, positive relationships that ignite the power and promise of youth. Our ultimate goal is for our Littles to be self-sufficient and earning a living wage by the age of 26. Last year, Big Brothers Big Sisters of Northwest Florida served 565 children in Northwest Florida.