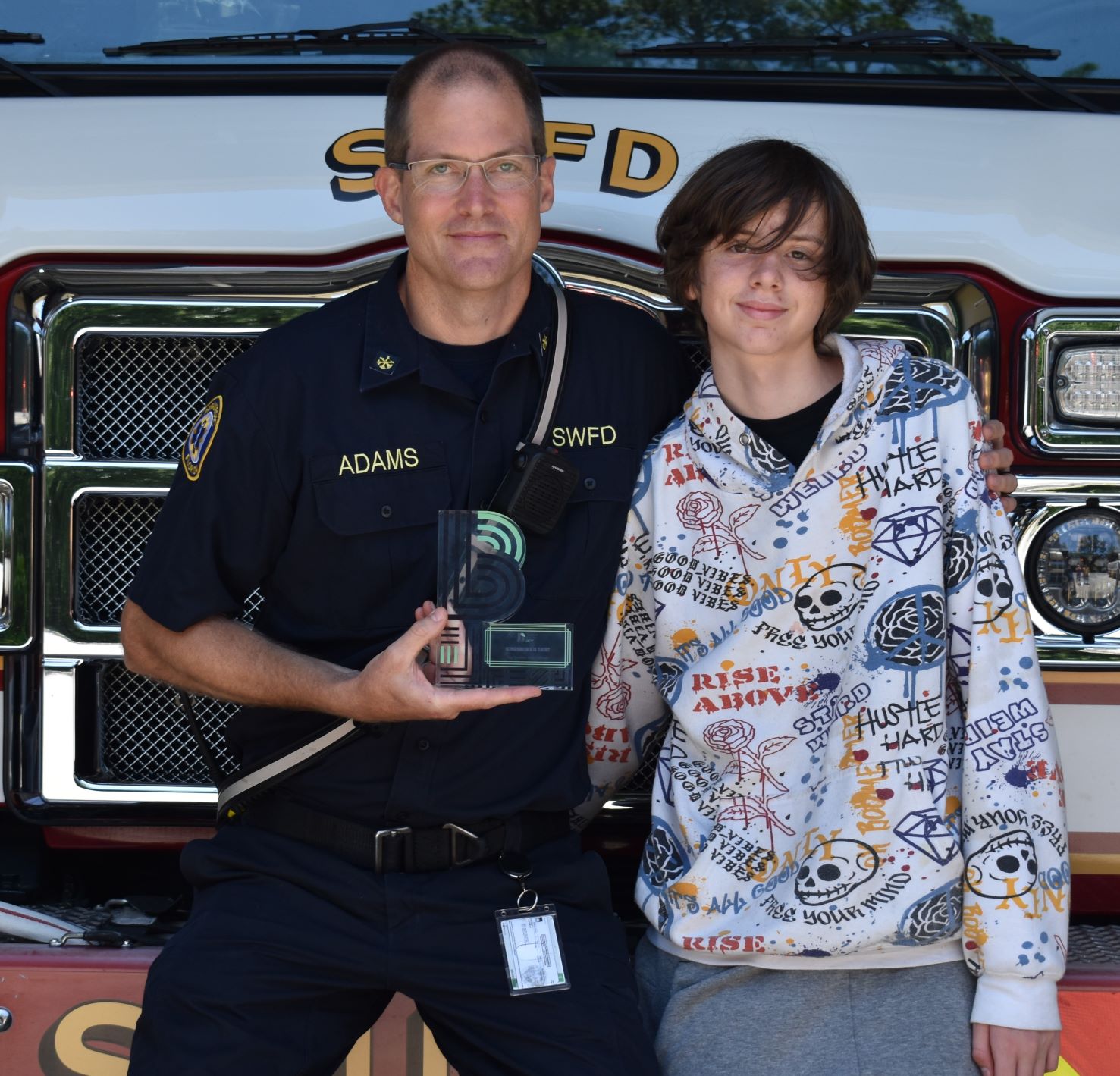 Okaloosa County, Fla — Big Brothers Big Sisters of Northwest Florida is proud to present John Adams with the 2022 Bigs with Badges Big of the Year award. This program is aimed at bridging the gap between youth and those who protect, serve, and support our community through their chosen profession to build trust and respect within the relationship. These Bigs include: police officers, sheriff's deputies, firefighters, correctional officers, EMT's, state troopers, state and federal employees, and our military.
District Chief John Adams has been a firefighter/Paramedic with the South Walton Fire District since 2006 and helps coordinate resources at the scene of emergencies. He helps lead and direct the operations of S.W.F.D.'s Technical Rescue Team. John also has a special knack for working the children of our community and has provided mentorship and friendship to his Little Brother Ryan for the past six years. The two share a love for firefighting, in fact, when Ryan was interviewed to be matched in the program, he shared that he wanted to be a firefighter when he grew up. Their relationship started with this unique bond and has grown stronger over the years.
John and Ryan have tackled many challenges, including navigating middle school during the height of a pandemic. They have also shared special experiences together, such as, touring local fire stations, visiting museums, attending a Ranger Open House and going to the movies. John has also helped Ryan expand his horizons on what he is willing to try, by testing out new cuisines and international dishes together.
John has continuously upheld a standard of dedication to his role as a mentor and a firefighter. He has inspired and helped his Little Brother succeed in many areas of his life and continues to impact him in a positive way. Ryan recently described his Big Brother as funny, kind, trustworthy and someone he can talk to about anything. John has truly shown how just a small commitment for a few hours a month can make a Big impact on a child's life.
On behalf of the staff and Board at Big Brothers Big Sisters of Northwest Florida, thank you, John for providing your Little Brother with the tools he needs to reach his full potential.
###
Big Brothers Big Sisters of Northwest Florida has been the area's leader in one-to-one youth service for 32 years by providing caring, adult mentors to children ages 5 through 18 and beyond. Our mission is to help children reach their potential through professionally supported, positive relationships that ignite the power and promise of youth. Last year, Big Brothers Big Sisters of Northwest Florida served 511 children in Northwest Florida.