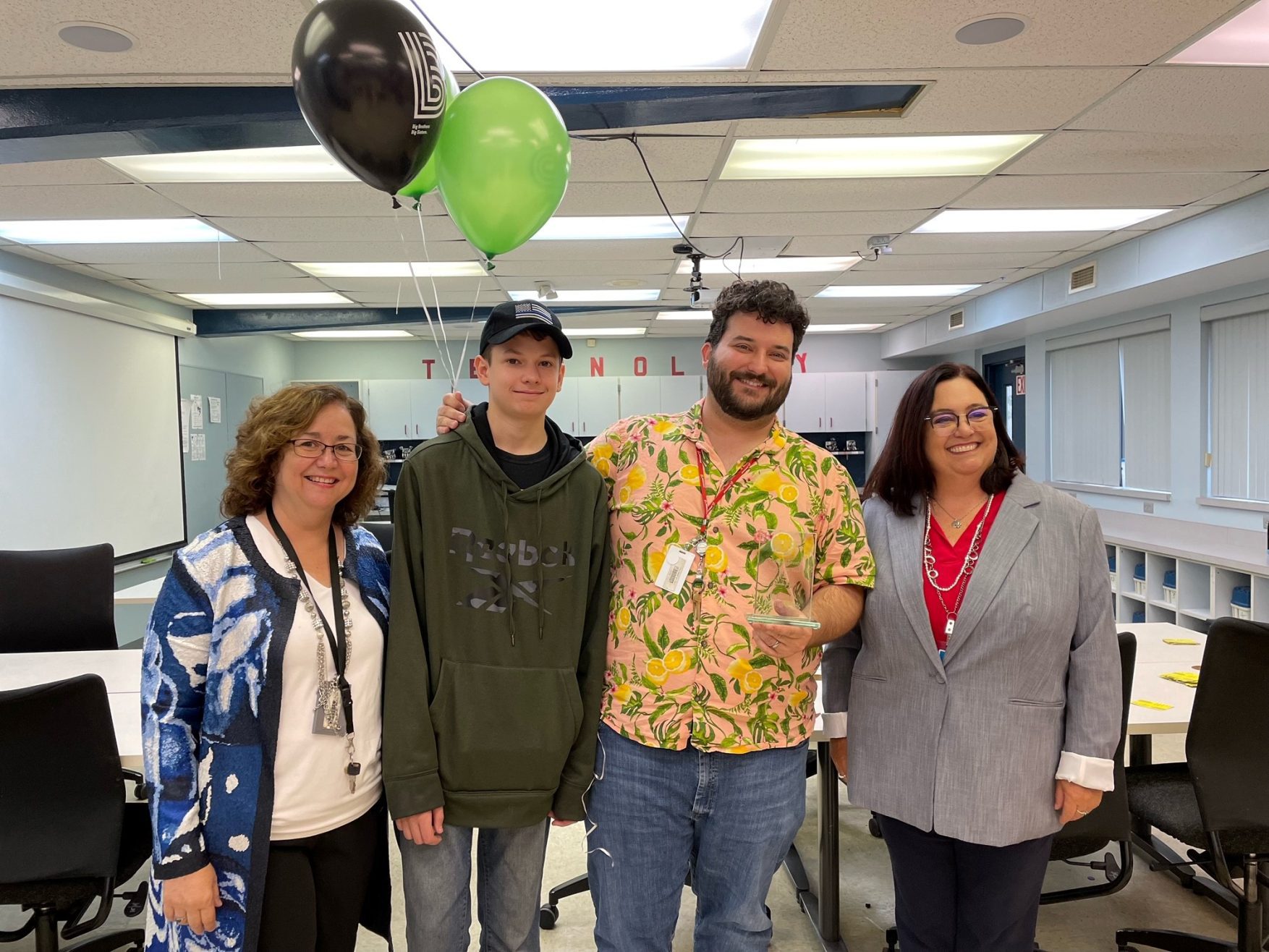 Fort Walton Beach, Fla — Big Brothers Big Sisters of Northwest Florida is proud to announce Daniel Pink as the 2022 Okaloosa County Big of the Year! On May 23rd, Daniel's Little Brother Alex joined other staff members at the Okaloosa STEMM Academy to surprise him with the award. Daniel, who currently teaches at the school, has gone above and beyond the expectations of our program.
Daniel was matched with Alex over two years ago, in the height of a pandemic. Despite the challenges and restrictions prohibiting the pair from meeting in person, they were able to build a relationship. Daniel would send Alex care packages in the mail and stayed in touch with him, by calling him at least once a week.
Daniel continues to be a positive influence in Alex's life by helping him through all sorts of challenges, including the transition to middle school. He encourages Alex to work on school projects, read new books and helps him with his homework. They have also enjoyed many activities together, such as playing with robots, playing games and going to arcades.
Over the past two years, Daniel has not only become a Big Brother to Alex, but has also become a Father himself. Despite the challenges of being a new parent, he has remained a consistent mentor and friend to Alex. When accepting this award, Daniel talked about his relationship with Alex and how much he has grown over the past two years, stating: "I have one complaint, I asked for a Little Brother and now he's almost taller than me!"
Daniel has truly shown how just a small commitment for a few hours a month can make a Big impact on a child's life. We are grateful for his continued support and dedication.
###
Big Brothers Big Sisters of Northwest Florida has been the area's leader in one-to-one youth service for 32 years by providing caring, adult mentors to children ages 5 through 18 and beyond. Our mission is to help children reach their potential through professionally supported, positive relationships that ignite the power and promise of youth. Last year, Big Brothers Big Sisters of Northwest Florida served 511 children in Northwest Florida. For more information, visit bbbsnwfl.org